logos
painted, added a bevel, should work on any background
http://userlogos.org/node/8292
Don't worry. I'll add more as I make them (which will be as I need them) after I stop making them for my purposes, maybe I'll take requests...
Here's how to make your Fast Dial logos appear bigger on hover.
First, select Options: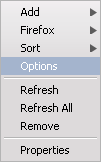 Then Appearance > Thumbnails:
In this tutorial, i will be using wikipedia as the source for a transparent PNG of the YouTube Logo.
As long as you have a transparent png to work with, your source doesnt matter.
If you already have the transparent PNG you will be using, please skip steps 1 - 3. Start at 4.
1. Go to wikipedia (or your chosen source), and find the image.
Parts a-b apply to wikipedia..
a) Search for the site name
playlist.com logo by X-Tree-M-GamR